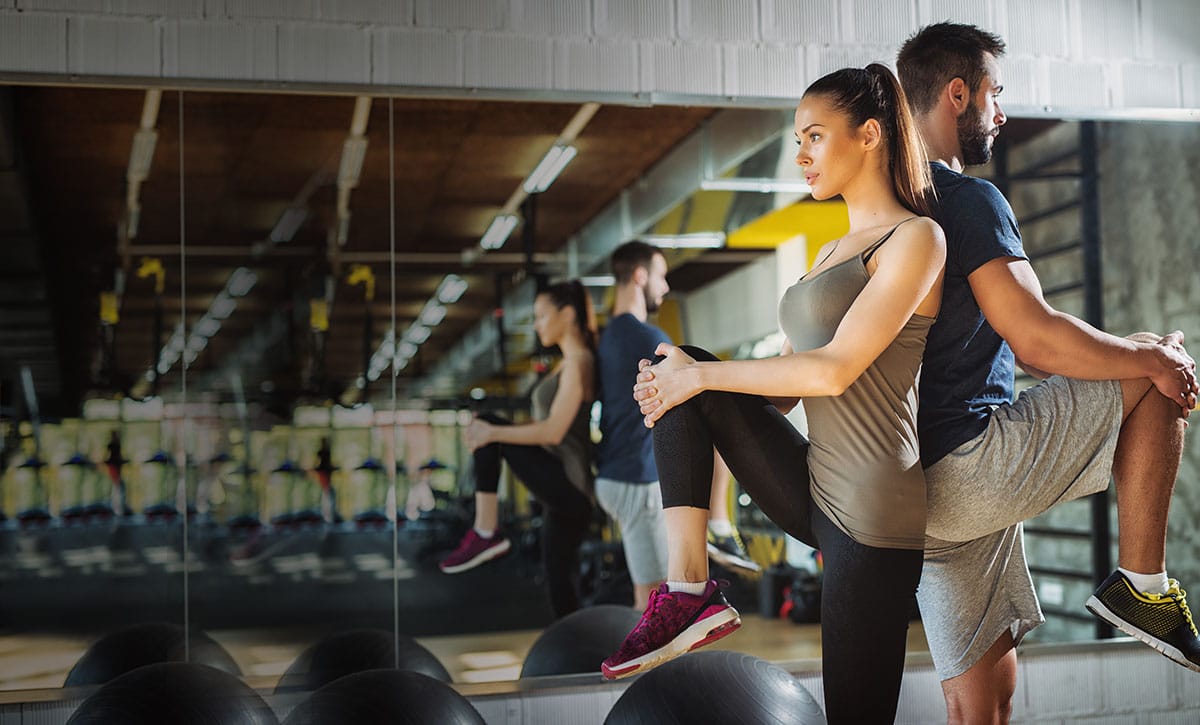 ‍
Supports a Healthy Body Composition
‍
Exercise & Dieting Support
‍
With Natural Safflower Oil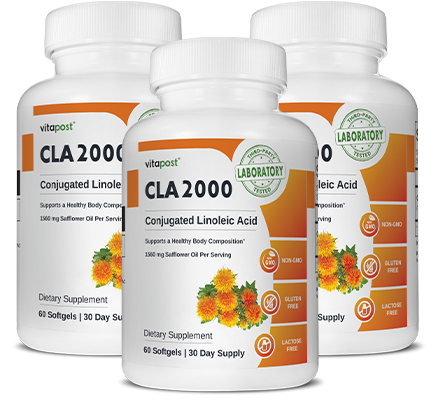 Introduction
Conjugated Linoleic Acid (CLA) is a form of fat that is commonly obtained from dairy, beef, and other foods that are high in polyunsaturated fats. Contrary to the dated popular belief that high-fat foods are bad for you, many kinds of fat are actually beneficial to health. CLA is one of these special fats. Some research into the effects of CLA has suggested it can support a healthy body composition.1,2,4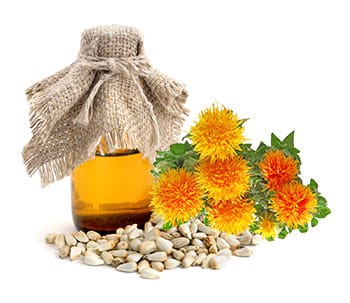 Ingredients featured in :

‍
High-Quality Ingredients
VitaPost CLA2000 is made with Safflower oil, which naturally contains a small amount of CLA. The CLA in the Safflower oil is concentrated using a proprietary process, yielding the final high percentage that's in CLA2000.
‍
Exercise and Dieting Support
CLA is a class of fatty acids closely related to the vital 'omega' fatty-acids. Essential fats are an important part of your diet.
‍
Made in the US
VitaPost CLA2000 is made in the US within an FDA registered facility that follows GMP guidelines. Ingredients in the formula are both domestic and imported.
What Is CLA?
CLA is essentially a group of chemicals that are found in foods that are high in polyunsaturated fat. Often compared to 'omega' fatty acids (like omega-3 or omega-6), CLA is regarded as an essential fat as it cannot be produced or synthesized by the body and we can only get it from our diet. CLA is known for supporting a healthy body composition. As CLA can only be obtained through your diet, and since relatively few foods contain it, it can be difficult to obtain in a useful amount. CLA extract in a supplement form is one effective method of getting sufficient levels of CLA without having to eat excessive amounts of red meat or dairy products.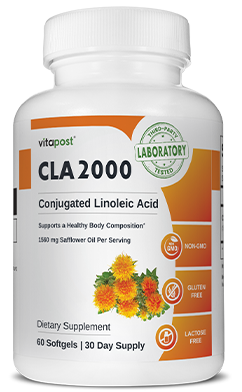 ‍Supports a Healthy Body Composition
CLA can help support a healthy body composition when taken daily, long term.1,2
‍Supports Exercise & Dieting
The nutritional benefits of adding CLA to your diet can help support your exercise regime and your dieting goals.3
Is CLA 2000 right for you?
‍
Looking for support for a healthy body composition?
VitaPost CLA2000 provides 1560mg of CLA per serving, concentrated from Safflower oil. It has been suggested that CLA supports a healthy body composition when taken long-term, with the total support ramping up over 6 months and then levelling out.1
‍
Want support for your exercise and dieting goals?
This beneficial oil might just be the boost you want to fulfill your exercise goals. Replacing 20 Calories of fat in your diet with VitaPost CLA2000 could be a great move for your dieting goals.2
Testimonials
Don't just take our word for it! Thousands of customers have experienced the results for themselves and this is what a few of them had to say.
Already a customer? Write your review now ‍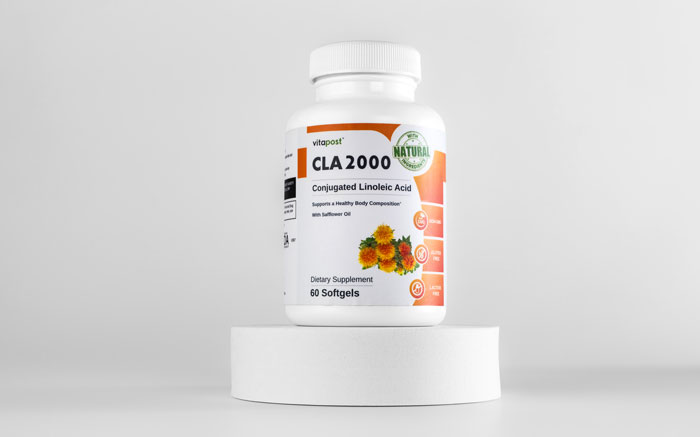 ‍
I fit perfectly into a swimsuit I bought last month which was too tight. Seems to be working, starting my second bottle now.
‍ Yes, I would recommend this product
‍
Pleased with the result. -
Eva
I've been taking this for about a month and I'm satisfied with the results. Happy to recommend CLA 2000
‍ Yes, I would recommend this product
‍
Showed my mom these -
Victoria
Both me and my mom are using CLA now and we both love it!.
‍ Yes, I would recommend this product
Click here to read all reviews.
CLA in the media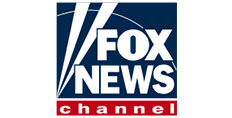 "CLA is an unsaturated fatty acid found in beef, lamb and dairy products. Animal research has found that CLA can help melt away body fat, and some studies have suggested the same may hold true in humans."
Published by Fox News, October 2009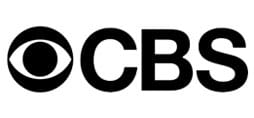 "In a study published last May involving 180 people who were overweight, those who took CLA for a year lost between 7 percent and 9 percent of their body fat even though they did not change their lifestyles or eating habits."
Published by CBS, April 2005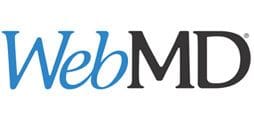 "Conjugated linoleic acid refers to a group of chemicals found in the fatty acid linoleic acid. Conjugated linoleic acid might help reduce body fat deposits."
Published by Natural Medicines Comprehensive Database Consumer Version, WebMD, 2009
FAQs
‍Taking CLA2000
Do I need a prescription for CLA2000?
CLA2000 is available for purchase without a prescription.
How do I use CLA2000?
Take two (2) softgels a day with food or as directed by your healthcare professional.
This supplement should be used in conjunction with a sensible diet and exercise program. Consult with a physician prior to use if you have any medical conditions. Do not use if pregnant or lactating.
I don't enjoy swallowing soft gels. Do I have any other options?
Because the soft gel contains a liquid, it is not recommended to cut the soft gel in half as much of the liquid will be lost. Do not chew the soft gel. While the CLA2000 capsule can be taken apart and absorbed in your favorite drink or food, we would not recommend this due to the taste.
‍Shipping, Sizes and Quantity
What are my delivery options?
We have global distribution to 20 countries worldwide. This list of countries is available in the first step of checkout.
Orders are processed immediately and shipping depends on which option you choose:
| Description | Price |
| --- | --- |
| USPS - Standard (3-5 business days) | $4.95 |
| USPS - Second Day (2-3 business days) | $9.95 |
| UPS/DHL/USPS – Tracking International (12-15 business days) | $9.95 |
How many capsules are in 1 bottle of CLA2000?
CLA2000 contains 60 capsules in every bottle. This is equivalent to a 1-month supply.
How big are the capsules?
The soft gels are a size 00 which is less than an inch long (23mm). Most people consider this size easy to swallow.
Can I return my unopened bottles of CLA2000?
Yes, we stand behind this supplement 100%, so we're more than happy for you to return your unopened bottles of CLA2000 within 5 months of purchase.
‍Ingredients and Restricted Diets
Is CLA2000 free of common allergens?
While the formula does not contain common allergens, this product is manufactured and packaged in a facility which may also process milk, soy, wheat, egg, peanuts, tree nuts, fish and crustacean shellfish.
For uncommon allergens, please check the ingredients list.
Is CLA2000 a vegetarian product?
CLA2000 is contained in a softgel that is made from gelatin, meaning it is not a vegetarian product.
‍Certification and Manufacturing
Are these certified by the FDA?
The FDA does not certify dietary supplement products, such as CLA2000. However, CLA2000 is manufactured in an FDA registered facility that follows GMP (Good Manufacturing Practice) guidelines.
Where is it manufactured?
CLA2000 is manufactured in the US from quality imported and domestic ingredients.